Dentist Serving Concord, NC
---
The Smile Architects is proud to provide top quality dental services to patients in Concord, NC, including dental implants, teeth whitening, Invisalign, and CEREC Same Day Restorations. Our office is conveniently located in Huntersville, a short drive from Concord, NC.
Call us today to schedule your appointment!
---
The Smile Architects
ADDRESS
131 Marguerite Lane
Huntersville, NC 28078
Directions
HOURS
Monday | 7:30am - 4:30pm
Tuesday | 7:30am - 4:30pm
Wednesday | 7:30am - 4:30pm
Thursday | 7:30am - 4:30pm
Friday | Closed
Saturday | Closed
Sunday | Closed

Request an Appointment
---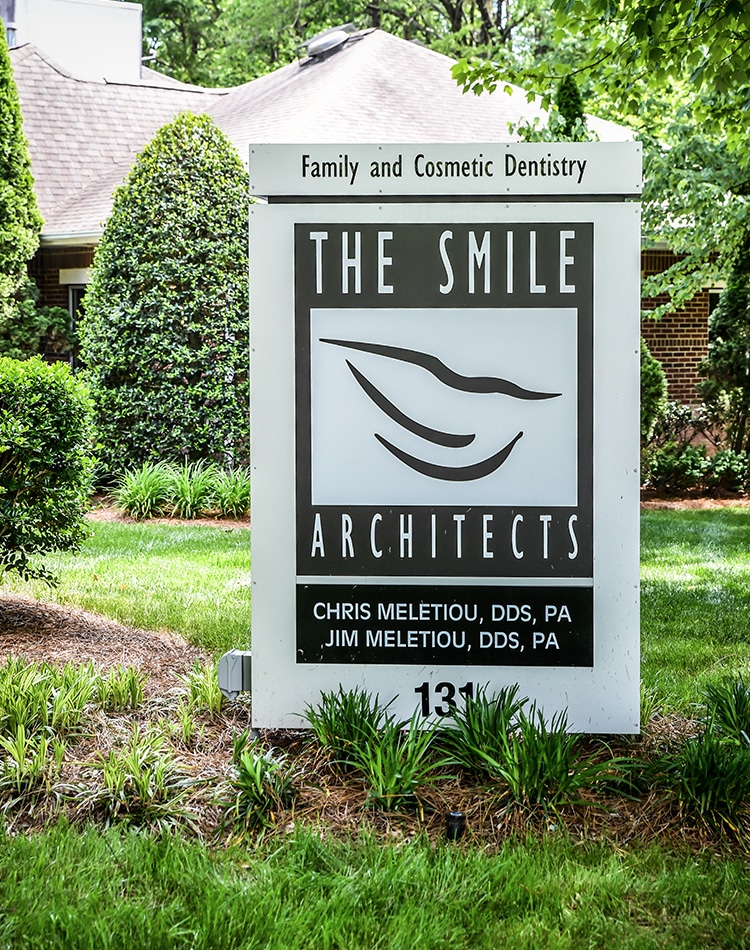 ---
Services We Provide
---
The Smile Architects provides a full complement of advanced dental services:
We do our best to help you avoid major dental issues with preventive care. Procedures like cleanings, comprehensive oral exams, cancer screenings, X-rays, fluoride, and dental sealants for children and teens can prevent some dental issues.
We use a biomimetic approach to restorative dentistry, meaning we do all we can to rebuild your teeth with their natural form and function. We offer tooth-colored composite fillings, crowns, bridges, inlays, onlays, dentures, and dental implants to restore your teeth.
Many people feel unhappy when they see their smiles in the mirror. The Smile Architects want to help you regain self-confidence and attract positive attention. We use a subtle approach that makes your cosmetic results look natural. We offer teeth whitening, cosmetic bonding, veneers, microabrasion, and gum contouring services to optimize your smile.
If you are looking for a discreet way to straighten your teeth, Invisalign may be the right choice. Invisalign uses a graduated series of clear plastic aligners to move your teeth gradually into position. It is easy to wear, remove, and clean the aligners.
Our office has CEREC same-day technology to create custom crowns, inlays, and onlays while you wait. The system uses a digital intraoral scanner to create a 3-D model of the area in question. The dentist designs, and the CEREC machine engineers the restoration. The technology makes beautiful restorations with little processing time compared to sending impressions to the lab.
While you can also consider dental implants part of restorative dentistry, they significantly improve the look of your smile and its function. A dental implant is a titanium post screwed into the jawbone, creating a lifelike replacement for the tooth's root. The abutment on top holds a dental crown that perfectly replaces your missing tooth. Implants last for many years, and caring for them is easy.
We believe in the importance of early dental care for teaching good habits and promoting lifelong oral health. Children regularly need comprehensive oral exams, dental X-rays, cleanings, fluoride treatments, and dental sealants. Our office also provides restorative care for children, including fillings, crowns, and other procedures.
Obstructive sleep apnea, the most common condition, occurs when soft tissue blocks the airway during sleep. It causes breathing to stop and repeatedly start during the night. The condition leads to sleep deprivation and could cause serious health problems like heart disease and diabetes. The Smile Architects prescribes custom oral appliances to properly position the jaw, keep the airway open, and provide a night of restful, healthy sleep.
Periodontal or gum disease can have severe consequences. When the gums become damaged, constant infections below the gum line damage the bone and cause teeth to loosen and fall out. Inflammation in the gums could cause diabetes, heart disease, preterm birth, and other dangerous conditions.
---
Why Choose The Smile Architects?
---
Our practice is patient-friendly, and our entire staff is committed to ensuring you receive the best possible dental care. We consider each patient's needs on an individual basis. We offer comprehensive services for the whole family, helping you achieve optimal oral health.
---
Frequently Asked Questions About Dentistry
Why do babies and toddlers need to see a dentist?
The American Dental Association recommends that children see a dentist between their first and second birthdays after teeth have erupted. The dentist can instruct the parents in proper oral care to prevent cavities and other problems.
Are CEREC crowns better than crowns that come from the dental lab?
The CEREC machine provides crowns that fit better and are more durable than traditional products.
Are dental X-rays safe?
Today's digital X-rays or radiographs use much less radiation than the film type used in the past. Digital X-rays also provide more detail than film X-rays and take no time to develop. Digital X-rays are safe when used as recommended.
---
Call The Smile Architects
---
Don't put off essential dental care—Call 704-875-1621 to ask about our services and make an appointment today.
Directions from Concord, NC
---
Follow Corban Ave SW and Cabarrus Ave W to US-29 S/Concord Pkwy S
Follow US-29 S and I-485/I-485 Outer to NC-115 N/Old Statesville Rd in Mallard Creek. Take exit 23C-A from I-485/I-485 Outer
Continue on NC-115 N/Old Statesville Rd to Huntersville
The Smile Architects will be on the right
Call us today at 704-875-1621 to schedule your appointment!
---